Virginia Beach Creative Firm Recipient Of Video Award
Virginia Beach, Va. – November 7, 2021
Virginia Beach, Virginia creative firm Kevin Makes Sense Media, has been named the recipient of a Gold Davey Award for the video "Add Some Fire To Your Night" produced for Northern Virginia based eatery D.C. Prime. With over 2,000 entries from across the U.S. and from around the world, the Davey Awards honors the finest creative work from the best small shops, firms, and companies worldwide. The video was a promotional branding piece created for the restaurant during the pandemic and is the second major award the video production has received.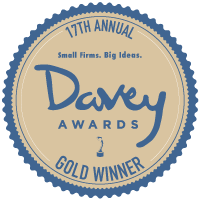 The agency received a Platinum AVA Digital Award statuette winner, (their highest honor), for the video earlier in the year.
"It's always exciting to be recognized for your work", said founder and CEO Kevin Neff, "but as always, I'm most happy about the results our client has received with the video."
About the Davey Awards – The Daveys are judged and overseen by the Academy of Interactive and Visual Arts (AIVA). The AIVA is an invitation-only member-based organization of leading professionals from various disciplines of the visual arts dedicated to embracing progress and the evolving nature of traditional and interactive media. Current membership represents a "Who's Who" of acclaimed media, advertising, and marketing firms including: Spotify, Majestyk, Big Spaceship, Nissan, Tinder, Conde Nast, Disney, Microsoft, GE Digital, JP Morgan, PGA Tour, Wired, and many others.
About Kevin Makes Sense Media – Kevin Makes Sense Media is an award-winning full service video production and branding firm located in Virginia Beach, Virginia. Their outside the box creativity makes them the branding and marketing firm of choice for those select businesses, entrepreneurs and professionals seeking to stand out from the competition while growing their exposure, influence and following. They provide custom multi-media solutions for local, regional, and national clients.